The North Central Texas Civil War Roundtable will meet at 6:30 p.m. on Monday, Sept. 11, at Spring Creek Bar-B-Que, 317 Hwy 377E, in Granbury. Our program will be presented by Dr. Rick McCaslin, Professor of History at the University of North Texas. Dr. McCaslin has written or edited nineteen books, mainly on Texas and Civil War military subjects. His 2004 biography of Robert E. Lee was nominated for a Pulitzer Prize. He will speak to us about the cotton trade in Texas during the Civil War.
Although we do not meet during the months of June, July and August, several members and guests enjoyed a late July tour of the Civil War Museum in Fort Worth. The museum is closing in December of this year. Those of you who have not seen the displays there should make every effort to do so before it closes.
SEPTEMBER IN THE CIVIL WAR—Although small battles and skirmishes occurred almost daily in all three theatres of the war, no major battles took place in September 1861. Two general officers, at the time not greatly acclaimed but who ultimately became military leaders in the war, made their first notable appearances in the hostilities. In the western theatre, Union General Ulysses S. Grant established headquarters at Cairo Illinois, and immediately moved to oust the Confederate forces from Paducah and Smithfield, Kentucky. By doing so, he prevented the Confederacy from claiming the entire state of Kentucky and foreshadowed his future campaigns utilizing the Ohio and Cumberland rivers. In the eastern theatre, a Confederate force, led by General Robert E. Lee, was defeated in its Cheat Mountain campaign, in what is now West Virginia. This was a major setback to the Confederacy's attempt to regain what was then western Virginia.
DID YOU KNOW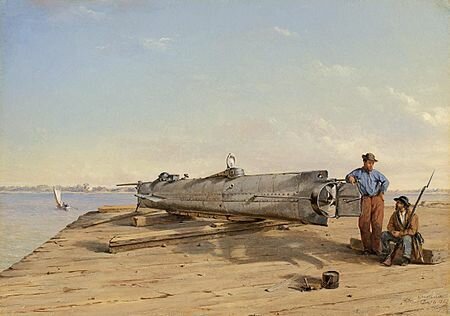 The first instance of underwater warfare occurred on Feb. 17, 1864, when the Confederate submarine H.L. Hunley attacked and sank the Union Navy ship Housatonic, in Charleston Harbor, South Carolina. The Hunley, however, failed to return to its dock in Charleston, and was lost, along with its eight-man crew, until 1995, when its wreck was located on the bottom of the harbor. It was raised in 2000, and is on display in North Charleston, South Carolina, at the Warren Lasch Conservation Center on the Cooper River. It is believed that the explosive charge which the submarine used to destroy the Housatonic also resulted in the sinking of the Hunley.
The North Central Texas Civil War Round Table meets on the second Monday of each month, except June, July, and August, at 6:30 p.m., at Spring Creek Bar-B-Que, 317 Hwy 377 E in Granbury, and guests are always welcome. There is no charge for first time attendees. For more information, please refer to our website: ncentexcwrt.com, or call either David Wells, at 817-579-5769, or Bill Dyess, at 817-326-8216.
Civil War Round Tables exist in cities and communities worldwide. All are independent, and share a common objective in promoting and expanding interest in the study of the American Civil War.