Granbury City Council candidates came together for a candidate forum on Oct. 9, with questions regarding the city's moratorium and recent tax increase serving as hot topics for the evening.
The public gathered at the Lake Granbury Conference Center to learn more about Granbury City Council Place 4 candidates Charles Beard, Brad Benson, and Gary "Skip" Overdier, and Place 6 candidates Alex Wolf and incumbent Greg Corrigan.
Eric Morrow, Tarleton State University associate professor, served as moderator for the evening as he took turns asking questions of the candidates in a two-hour long public forum.
The candidates began by issuing a three-minute opening statement to introduce themselves and give an overview of their position on certain matters.
________________________________________________
CHARLES BEARD
Beard began his opening statement by apologizing for wearing glasses inside, as the injuries he received during combat now require him to constantly wear shaded glasses.
He said he is a local Granbury ISD substitute teacher and is "here for the people." He said he does not approve of tax increases, but that Granbury will continue to grow.
"We all have to be together as one. That's why I'm for the people. I want to be the people's voice," he said.
ALEX WOLF
Alex Wolf is the owner of Zev Martial Arts in Granbury, where his students have earned 33 state, eight national, and three world championships.
Wolf said he believes in "standing up for what is right," even if he has to stand alone. He said he also believes in lowering taxes and "never again allowing our churches, our schools, or our businesses to be shut down."
"I believe our Granbury family values are worth fighting for," he said.
Wolf also called out incumbent Corrigan, claiming he was at the helm during the pandemic lockdowns, "shut down the community in his handling of the wastewater treatment plant," and saying that "property taxes have more than doubled since he's been in office."
"I'm running for Granbury City Council to give the people a grand narrative of voice," Wolf said. "Our community pride and connectedness make Granbury special and further excellence can only be achieved through accountability and transparency of the city's government to the people."
GREG CORRIGAN
Corrigan moved to Granbury in 2012 and served this community in a "number of different ways," like being involved with the Granbury Volunteer Fire Department, an ambassador of the Granbury Chamber of Commerce, along with serving on numerous boards and nonprofits.
He explained that since being elected, he has learned more about government and politics "that he ever really cared to know."
"I met some of the greatest people on earth and I work on being a better man every day," Corrigan said. "I make decisions based on my faith, the facts in front of me and the community. I look forward to serving you for the next three years, and I thank you for your support and ask for your vote."
BRAD BENSON
Benson is a lifelong Texan with conservative values. He is a Tarleton State University graduate and the owner of the Cinergy Cinemas movie theater in Granbury. Cinergy Cinemas now has nine locations in four states, Benson said.
He also has served as a part-time deputy fire marshal for Hood County. He spent several years on the board of directors on an electric power co-op overseeing a $1.5 billion-dollar annual budget "about seven times greater than the city of Granbury."
Benson said his goals are to reduce tax bills, "get ahead" of the U.S. Route 377 expansion project and improve the GVFD's ISO rating.
"I'm running for city council because I believe you need a local representative, someone who knows the city inside and out and someone who's been here a long time, and not somebody with an unknown agenda," Benson concluded.
GARY "SKIP" OVERDIER
Overdier served in the Air Force for a total of 30 years, where he was eventually promoted to chief master sergeant. After leaving the Air Force, he became a partner and managing broker for the "largest real estate franchise in eastern New Mexico."
After being in real estate for 15 years, he had the opportunity to reenlist in the Air Force, where he was involved in "every war in conflict since Vietnam."
He then moved to Florida and was eventually elected to serve on the city council in Destin. Overdier recently moved to Granbury, where he has since served as a member of the Granbury Rotary Club and the Granbury Planning and Zoning Commission.
"You don't get to positions like that without being a leader," Overdier concluded. "So if you agree with me that to be on the Granbury City Council, you need to be a leader, then I would ask for your vote on Nov. 7."
____________________________________________________
MOST IMPORTANT ROLE
Morrow then began the Q&A portion of the forum, asking the candidates, "What do you feel is the most important role of a Granbury City Council member?"
Beard said making policies is one of the greatest roles of a city council member. He said the council needs to continue to update the public on changes and motions, as well as improving the city budget.
"We need to seriously listen to the people, and we need to hear what they have to say," he said. "We need to look back, have compassion and understanding, and realize we're in a time where businesses owners are trying to vote."
He explained that when making policies, it's best to talk to the public first before making any decisions.
"I've dealt with leadership my whole life," he said. "I've done two tours in Afghanistan and one in Iraq. I've been the leader. My soldiers don't follow me because of the fact that I've given them an order; they follow me because they trust my judgment."
Wolf said the most important role for a city council member is to accurately represent the community they serve.
"This includes being transparent, this includes being accountable, and this includes being accessible," he said.
Corrigan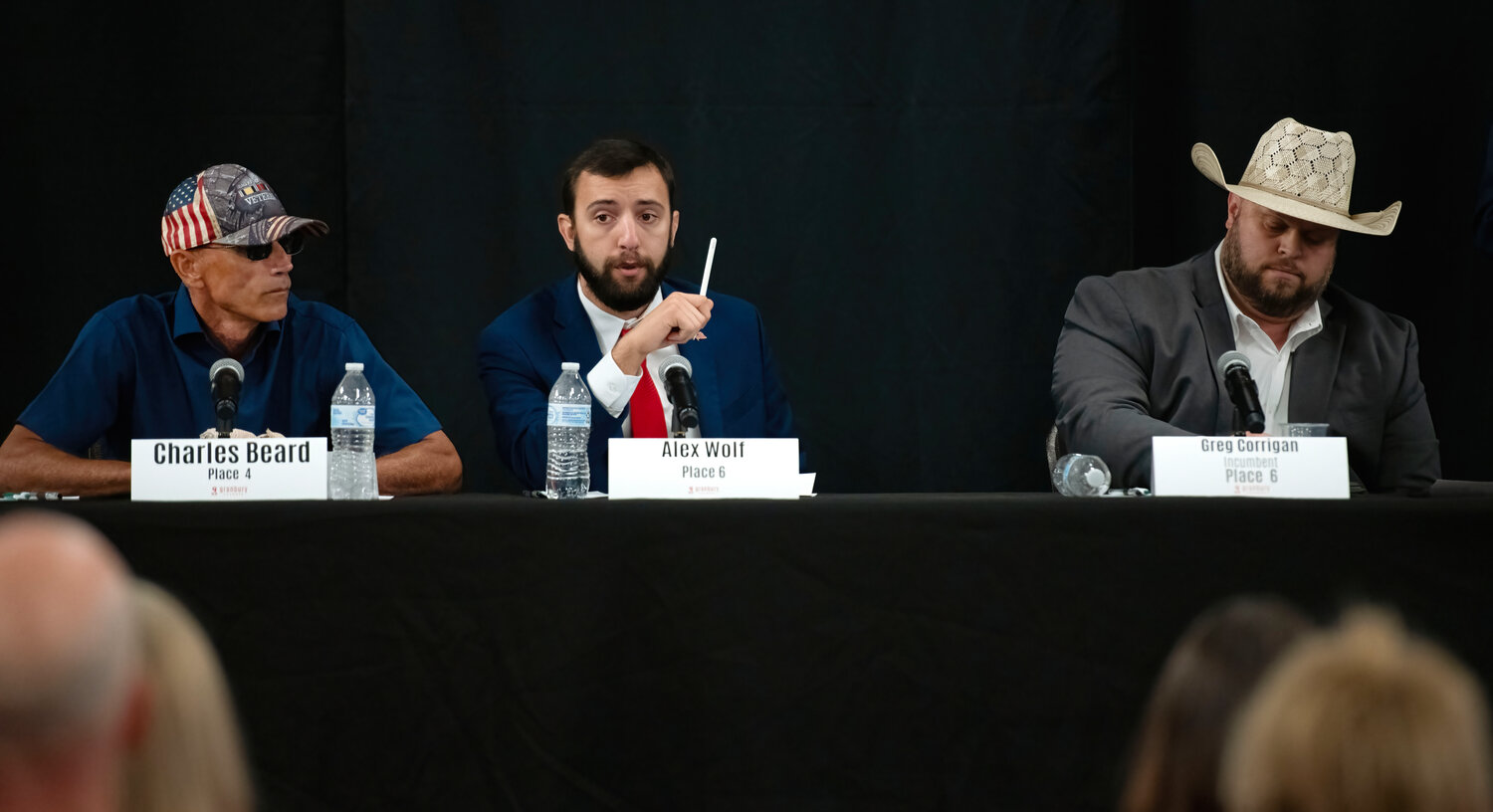 said the most important role of a city council member is to make the best decisions possible.
"The only way to make appropriate decisions is by being available, being involved and being engaged on a regular basis, which I have had the pleasure of doing for the last 12 years," Corrigan said.
For Benson, solving problems is the most important role of a council member.
"The ability to evaluate, analyze and make ethical decisions, and view the outcome through the lens of the citizen is the most important role of an elected representative," Benson said.
Overdier said he believes the most important job of a Granbury City Council member is to provide for the health, safety, and security of the residents of Granbury.
"You do that through approving a reasonable budget that covers all the needs of the Granbury city staff," Overdier said.
BUSINESS-FRIENDLY TOWN
Morrow then posed the next question: "Do you believe Granbury is a business-friendly town?"
Wolf responded by saying both "yes" and "no." He explained that it makes him proud when he drives through the square and sees how many people are visiting the Granbury shops and businesses.
However, he said between the moratorium and the upcoming U.S. 377 expansion, many businesses are "afraid to bring their business to Granbury." He said many business owners think there's a lot of red tape when it comes to opening a business here in town.
"I think we need to resolve the moratorium and then I'd like to take a look at some of that red tape when elected," Wolf said.
Corrigan said he believes Granbury is business-friendly, adding he doesn't mean that the town is perfect. He pointed out that other cities always pose the question, "why is your city the hardest to deal with?"
"That is why we are actually in the process now and have been for over the last few years of reviewing all our ordinances, making appropriate changes and making sure we are only regulating the things we need to be regulated and not causing people any undue hardship within their business," he said.
Benson said as he is the only candidate vying for Place 4 who has owned a business in Granbury, he is able to "shed some light on this topic."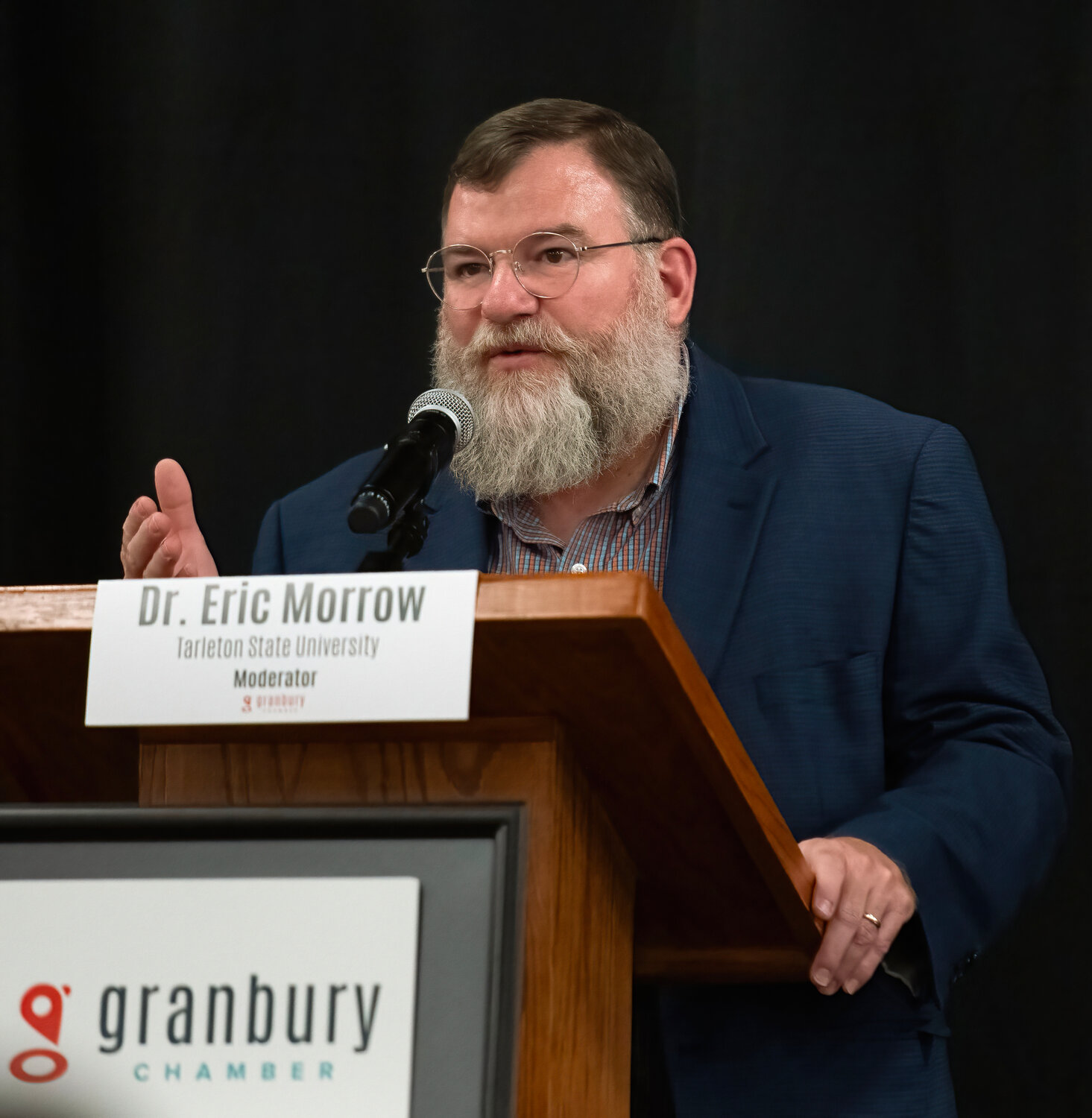 "Over the last 25 years I've owned and operated 26 movie theaters across eight states," he said. "This gives me a pretty wide view of many cities and regulations and burdens that affect businesses in various places all over the country. That said, yes, Granbury is one of the most business-friendly places we've operated."
Overdier also agreed Granbury is business-friendly, adding that Lance LaCour was hired as the city's new director of economic development.
"Lance had used chapter 38 of the government code," he explained. "It allows us to get loans and grants to help new businesses. It helps us to use city staff, to use city facilities, we can use them at a minimal or no charge. I think we do a great job of trying to attract new businesses. and I think that the economic development department is doing a great job."
Beard, like Wolf, said both "yes" and "no" in regard to Granbury being a business-friendly town, adding that "we can do more."
"I know this square has different events, but we need to promote our local families," Beard said. "We need to keep the big businesses at a standstill, get our environments together, and continue to support and champion because without the small businesses, what are we going to have? I hope that together as a team, we can be unified, and we can think about that and be as one family and talk in peace."
MORATORIUM
Morrow's next question referred to the moratorium. "Tell us your thoughts about the moratorium on new developments in Granbury. Do you think it is keeping Granbury from growing? Yes or no, and why?"
Corrigan said the moratorium is "exactly where it needs to be for the time being," and he doesn't think it's causing a lack of growth within the city. He said Granbury cannot take on any new developments that would cause additional infrastructure issues or additional use of the wastewater treatment plant.
"The moratorium has caused roughly 100,000-plus businesses that would have loved to come here, but they can't at the moment," he said. "It doesn't mean they're not still going to, it doesn't mean they don't still have plans to, but until the moratorium is lifted, it's not currently causing issues with business growth — but it will be very soon."
Benson also said he believes the moratorium has not stopped Granbury from growing, but it has slowed growth to some degree. He said it has kept out some businesses that would be advantageous to Granbury.
"I think the wastewater treatment plant needs to get completed ASAP so the moratorium can be lifted, and city strategic plans can be properly utilized going forward," he said.
Overdier said the moratorium has stopped any new development from being approved due to the wastewater treatment plant being at maximum capacity.
"Right now, there are already plans and developments that have been approved before the moratorium was put in place, so those plans and those developments can continue before the moratorium is lifted," he explained. "In addition to that, we've had some people who have come and spent their own money to start new developments and they've been very creative by using what's called an onsite sanitation facility, basically a septic tank. If a development uses an onsite sewage facility that's approved, they can go ahead and do their development. They actually had the caveat that when the moratorium is lifted and a new Granbury water treatment plant is built, they will then hook up to the current sewer system."
Overdier said at the end of the day, the moratorium has stopped more new construction, but hasn't totally stopped development in Granbury.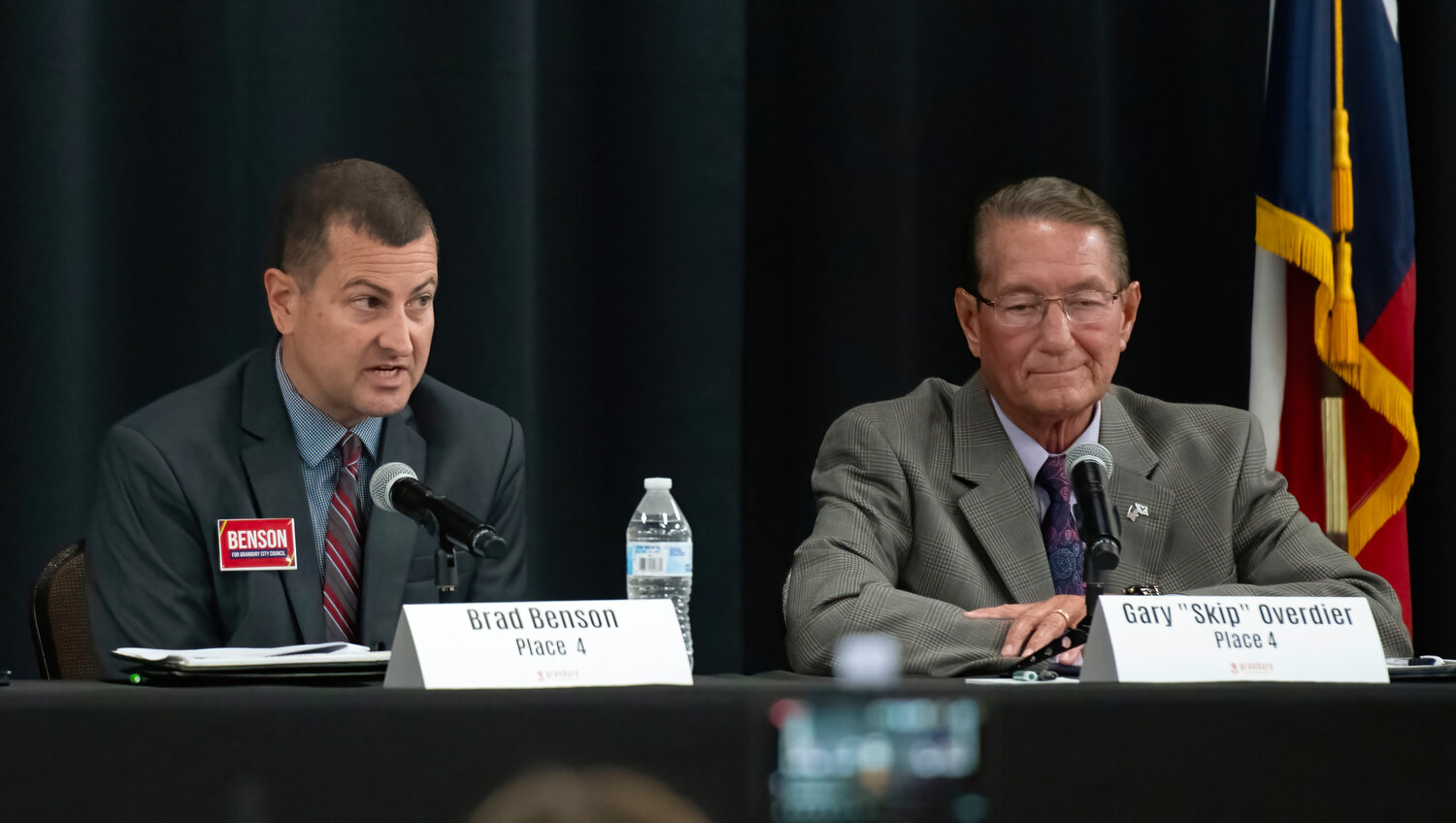 Beardsaid he believes the city needs to "put the brakes" on new development. He said the city needs to first address traffic, water, sewage, trash, city employees and competitive salaries to retain qualified individuals.
"We are arguing over putting in a water sewage plant and we want to entertain additional developments," he said. "Fast expansion suppresses the economy income and causes even more taxes that will be difficult to maintain."
Wolf said an "indefinite moratorium is absolutely throttling the development of Granbury." He said the city should look at any means necessary to fix this crisis.
"Our leadership hasn't been properly planning ahead," he said. "We need to create a true five-year and 10-year plan and we need to look at the direction Granbury is going."
WASTEWATER TREATMENT PLANT
The next question asked the candidates their thoughts on the wastewater treatment plant.
Benson said no one wants a sewer plant in their backyard, but he lives a few doors down from the current wastewater treatment plant and "they're really not a bad neighbor."
He explained how he would take his Labrador Brody on walks through the Harbor Lakes Golf Course near the waterfall where treated wastewater is released.
"I think we should stop being scared of the wastewater treatment plant and embrace the fact we need a new one and the new one is going to be even better in the long run," he said.
Overdier explained how in 2016, the wastewater treatment plant exceeded capacity and therefore, a new plant was needed.
"I will say there is nothing wrong with that plant and the new plant is going to be just as efficient, just as clean, and there'll be no pollution on Lake Granbury," he said.
Beard said he does approve of the plant but is confident that no real location of the city wastewater treatment plant will satisfy all citizens or communities.
"Common knowledge, there are odors, and if Granbury wants to increase population, they have to make tough decisions," he said.
Wolf said if the city broke ground on the new wastewater treatment plant tomorrow, Granbury would still be two years away from the facility being completed. He said the city council needs actual plans with deadlines.
"I think a lot of people are frustrated because this has not been communicated properly," he said. "I think the council needs to have a leadership role and say 'we're doing this by this day. Here's how it's being solved.'"
Corrigan said the planning of the wastewater treatment plant started in 2016 and he reiterated the plant is "exactly where it should be."
"People say it could have been done sooner, which is not exactly accurate," he said. "The state has certain guidelines on when cities are to start building, to start planning sewer plants. They say we don't communicate. I can get that. The difference is if there's nothing to communicate, then there's nothing to say. I do believe we will be under construction soon, and then we can get this moratorium moving."
INFRASTRUCTURE DEBT
Morrow then asked the candidates their thoughts about adding debt in the future to pay for infrastructure projects.
Overdier explained that infrastructure projects are definitely multimillion dollar projects, and the city typically tries to get a bond to take care of those projects. He said Granbury actually has a "double A" bond rating, which works similar to how a good credit rating lowers interest rates on mortgages.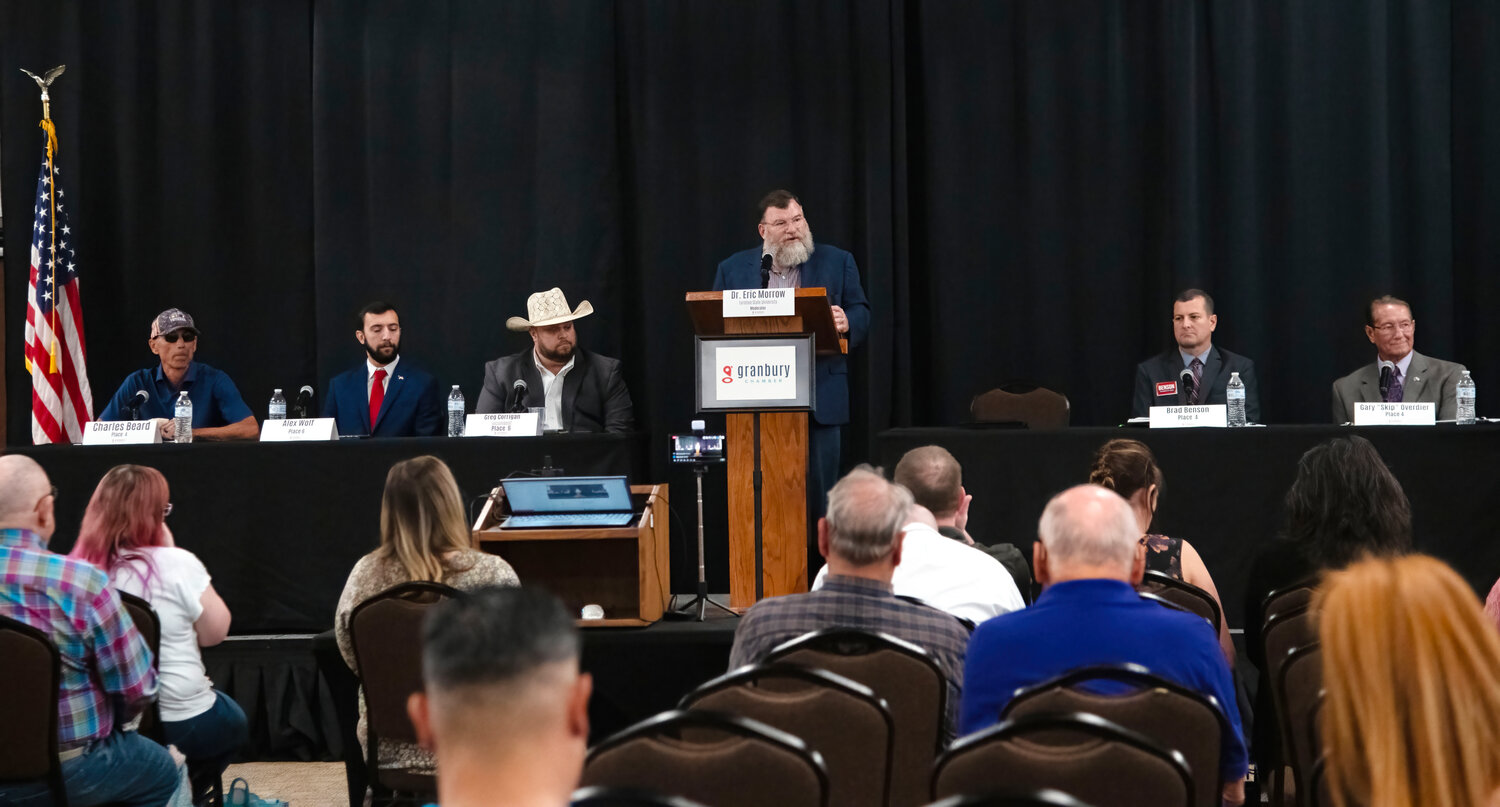 "The city of Granbury has an extremely low rate on its bonds, which literally saves us millions of dollars every time we do that," he explained. "We just completed a new set of plans to do some infrastructure along Pearl Street that's going to alleviate some of the flooding that goes on down there, and that's all done with grants we use for infrastructure. All those things are things that could save the people of Granbury money, and it's all because of the things we've done in the past that has gotten us that double A bond rating."
Beard said he doesn't believe in any debt but he is "fully for anything that the public wants."
"I want to be the voice between you and special agendas and that's what it comes down to," he said. "If I get elected, we will work together as a team. We need to make sure the public knows every aspect of these bonds, every little thing that can possibly come up, because the public's not getting the full picture."
Wolf said debt is not uncommon in cities and in his opinion, Granbury is doing "reasonably well."
"Myself, I don't actually like to have debt, but it's understandable with the city," Wolf said.
With his remaining time, Wolf then posted a question to Corrigan on his previous statement that there is nothing to communicate about the wastewater treatment plant.
"You thinking there's nothing to communicate is actually part of the problem, and I'd like to ask when 'soon' is," Wolf asked Corrigan.
Corrigan said infrastructure projects are necessary, especially over time as everything ages.
"We are fortunate to have such a great bond rating which has allowed the last two bonds to be purchased at a premium," he said. "Our finance department that gets debt paid off as quickly as possible allows us to not only service those bonds, but to service them sooner than we may have otherwise been able to do, so yes, if it's needed, I would be for additional future debt for infrastructure projects."
Benson said he hates debt in his personal life and he believes in fiscal responsibility.
"I believe debt financing should be kept to a minimum and used only when the annual budget just can't accommodate a genuine need," he said.
TAX INCREASE
Morrow then mentioned the recent tax increase that was approved by the Granbury City Council and asked the candidates for their thoughts on the decision.
"I'm not raising taxes. Simple as that," Beard said. "I don't believe the community needs to put up with it. The property taxes are already ridiculous."
He said the city council needs to get together as a team to find ways to help everyday citizens.
"There're other ways of common solving problems without raising taxes," Beard said.
Wolf explained that gas and groceries are expensive due to inflation. He said the council could've kept the exact same rate, but everyone's property taxes still would've been raised.
"If you wanted no new taxes, my opponent would have had to lower your tax to $0.361. Instead, they raised it by half a cent which in my opinion is beyond tone deaf, I would have voted 'no,'" he said.
Corrigan said he voted 'yes,' but explained that during the budget meeting, the council requested staff to figure out a way to include two of the three fire trucks that have become necessary over the last year.
"Staff met with all departments and were able to cut an additional $246,400 — not that it wasn't needed — but that could be waited on leaving $103,600 of the $350,000 needed to purchase those trucks, and that is exactly what the half-cent rates covered and that is why I voted 'yes' for public safety," he said.
Benson would have absolutely voted "no" for the half-cent tax increase, saying it was absolutely unnecessary.
"I'm a big believer in keeping government small," he said. "Once taxes go up, they almost never go back down. We should accept that tax increases are OK when a city is growing sufficiently to cover its budget without rate increases."
Overdier explained the city had a $69 million budget for this year, but upon approving the budget, it was revealed the city is roughly $100,000 short of having a balanced budget. He said the Hood County Appraisal District had given the city a check a few weeks before that for $100,000.
"Instead of putting it in reserve, we could have just put it in the budget, and that would have balanced the budget, and we would not have had to have a tax increase, so I would have voted 'no' for the tax increase," he said.
PAID VS. VOLUNTEER FIRE DEPARTMENT
Morrow then asked the candidates if they would support a paid fire department or stick with the current all-volunteer fire department.
Wolf said he recently stopped by station one — as he is one of the few candidates who is not a firefighter — and was really impressed. He explained that the ISO (Insurance Services Office) rating is three out of 10, with one being the highest, and that the response time is incredibly fast.
"Overall, they're doing an amazing job," he said. "If the firefighters want to be paid, we can have that conversation. But right now, I'm incredibly impressed with the work that they do."
With his remaining time, Wolf brought the topic back to taxes, saying if raising taxes is the solution, then Granbury should have the best infrastructure in the world and arguing that Granbury does not.
"Clearly something happened along the way," he said.
Corrigan said if the GVFD was not upholding the level of service it is, he might feel differently about this topic. He said the GVFD currently has an average en route time of two-and-a-half minutes or less.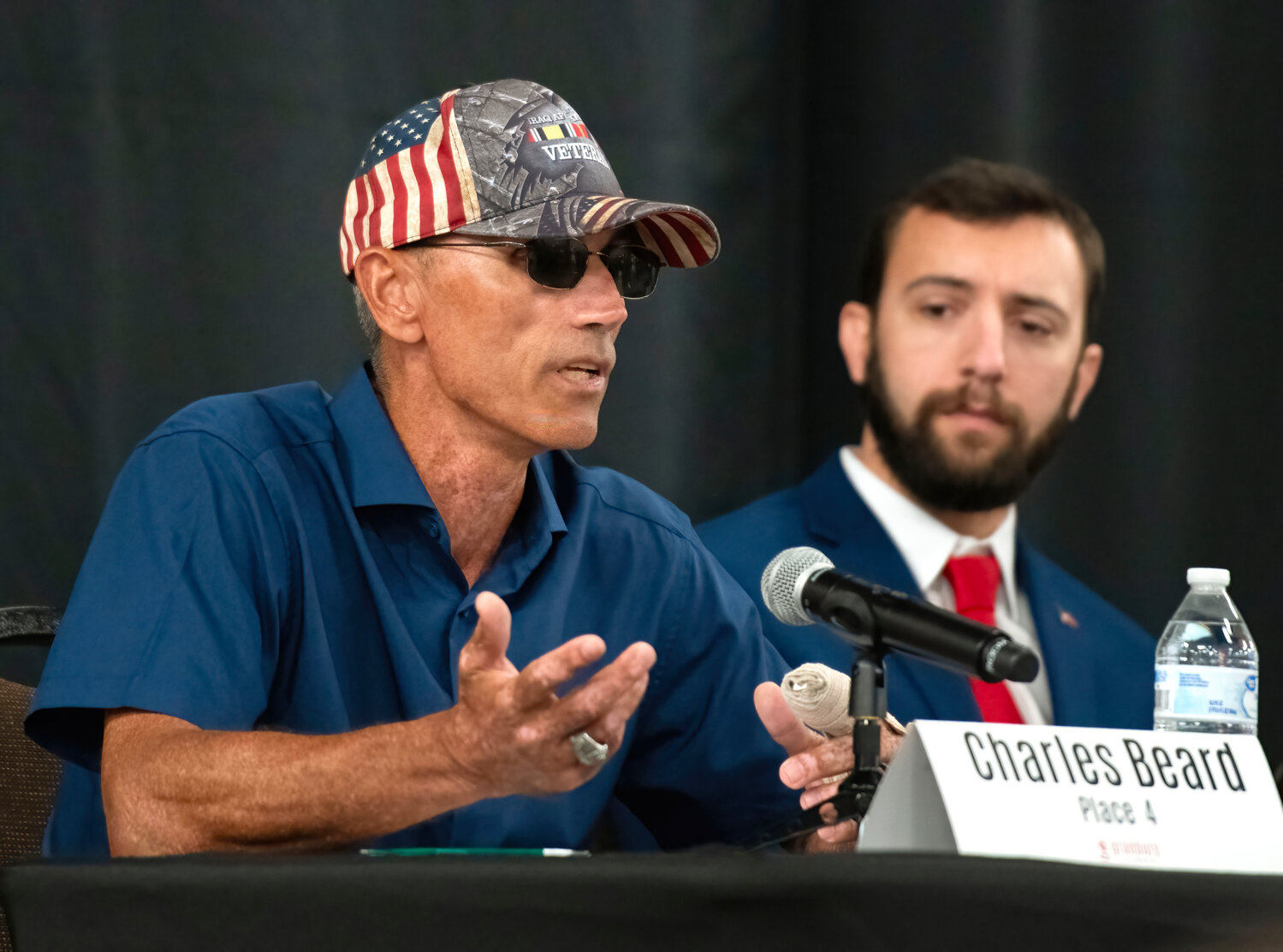 "They are on average showing up with two to five apparatus on any given scene and 13-plus firefighters on any working fire to accomplish this same goal," he said. "[To achieve] the same numbers with a paid fire department would require no less than 39 staff, and that's not including chiefs and assistant chiefs. To get the same numbers we have today would require a tax rate increase of over 50%."
Benson said he has been on the GVFD for 21 years, and the department has existed as an all-volunteer fire department since 1907. He said it's the busiest, biggest, most progressive and successful all-volunteer fire department in the state of Texas.
"We were the first in Texas to receive an exemplary ISO rating of three in the city limits back in 2001," he said. "I acknowledge there may be a day soon when Granbury needs to start staffing stations on a schedule. But volunteers are always going to be the backbone. Volunteers save taxpayers about $8 million a year by doing the job as well or better than a paid department for about [a tenth] of the cost."
Overdier said the GVFD is doing a great job and commented on the quick response he witnessed firsthand after a fire alarm went off last week.
"Within less than two minutes, the chief had a list on his phone with eight volunteer fireman that responded to that fire," he said. "When my house catches fire here in Granbury, I want the Granbury Volunteer Fire Department to respond to that call. They will be there, and my house will not burn to ashes."
Beard said as a current student in Leadership Granbury, his class toured the GVFD.
"They are an outstanding department, and I have to give them kudos for that," he said. "We're talking timeframe on life. We're not talking about just little things. Your mother, your father, your sister, six seconds or five seconds more, just something to think about, because that's what emergency services do. They show up as fast as they can."
POLICE RETENTION
Morrow asked the candidates what the Granbury City Council should do regarding Granbury police officers leaving the city right after completing their academy training due to earning lower pay than officers in surrounding communities.
Corrigan said he's not sure where the notion came from that officers are leaving right out of the academy. He said it's true there are some communities around us that pay more than Granbury does; however the city has not lost any officers soon after graduating from the academy.
"The last two years, there have only been two officers who have left Granbury PD, both of which left for other departments to further their careers in specialty areas that Granbury PD does not offer," he said. "Pay was not a factor. I think if you ask any of our current Granbury PD officers, they would much rather have the life and the career they have here in Granbury at a lower pay than they may have somewhere else."
Benson said there are a couple of options the city can take to help combat the police retention issue. He said we can either raise taxes to give officers better salaries or reduce staffing numbers and raise salaries to competitive rates.
"Many people would argue the city police department has swollen to an unnecessarily large size for a city of 11,000 residents," he said. "The police department takes a major chunk of the city's overall budget. I'd be sure there's ways you could cut costs without sacrificing the city savings, potentially allowing for salary increases out of some of those budget cuts. Ultimately, however, the city council's role is to hire a professional police chief, then trust him to make the budget, compensation and staffing decisions to meet the city's needs within those given budget constraints, and I think he's more than capable of doing so. We need to back off and let him do his job."
Overdier explained the city council recently gave raises to all city employees, which included police officers. He said he believes it will fix part of the problem that some people perceive but doesn't agree that Granbury police officers leave after they finish the academy.
"Chief (Mitch) Galvan is a great police chief," he said. "He knows what he's doing. He's done a great job of improving and creating a good morale within the police department and police officers are not leaving. I think you'll find the protection services you get from the police department are far better than most towns in this area."
Beard explained he has a passion for law enforcement and as a community, we need to support our police officers.
"We need to continue looking after every single person, all emergency services," he said. "It's not just law enforcement. These law enforcement officers may not be leaving, but they're not getting the pay they're supposed to get, and they are not getting competitive wages. Eventually they will leave. History proves it, and you know what? I don't see a flock of people coming in either, so we need to make sure we understand these are individuals that protect us."
Wolf said he did some research on the pay in the surrounding communities. He said Weatherford's starting pay is almost $65,000, Stephenville's is barely in the $50,000 range, Fort Worth's base pay is just under $67,000, and the current base pay for a Granbury patrol officer is almost $68,000, according to the city.
"I think that's very competitive, which means one of two things is happening," he began. "If this is a real issue, either there's a culture issue or there's a contract issue. I think both of those can be fixed, but if it's a culture issue, we need to make sure there's room for advancement. I think we need to make sure the path for advancement is very clear. I think we can give them ample training opportunities and make sure they can choose to specialize or to be the best officer they can be if that's their chosen career field."
TOURISM-RELATED TAX BREAKS/INCENTIVES
Morrow asked the candidates if they would support tax breaks or incentives for tourism-related businesses wanting to relocate to this community knowing that tourism is one of the largest economic drivers in Granbury.
Benson said he would not support tax breaks or incentives as tax breaks are "historically unfair" as they tend to favor bigger businesses with more powerful lobbyists. He said he believes the same incentives should apply equally to small mom-and-pop businesses as well as bigger businesses.
"The city really just needs to provide a welcoming environment for business in general, and avoid favoritism," he said. "Good old-fashioned capitalism will prevail. If Granbury is a good place to do business, and tourism is strong here, then businesses will come regardless of tax breaks or not."
Overdier said he would support these initiatives, explaining that Visit Granbury Executive Director Tammy Dooley spends $2 million a year to promote tourism in Granbury.
"Tourism is the major industry in Granbury," he explained. "We don't have a Ford Motor Company developing F-150 trucks here. We have tourism; that is our industry, and I think Visit Granbury is doing a wonderful job."
Beard said he will only support tax breaks or an incentive if it's equal down the line for every business.
"Tourism is big (for the) economy, and we want to promote that, but let's do it with love, logically, proficiently and equally, because that's what's going to get everything in Granbury done," he said.
Wolf said if there was a "rockstar company" that wanted to move to Granbury and would give residents hundreds of jobs, he would consider the tax breaks and incentives for new businesses. However, he said, what concerns him the most is a business coming in that would then compete against an existing local business.
"If we're giving them incentives, that seems unfair," he said. "We need to have a diversity of business here in Granbury and we can't just lean on tourism."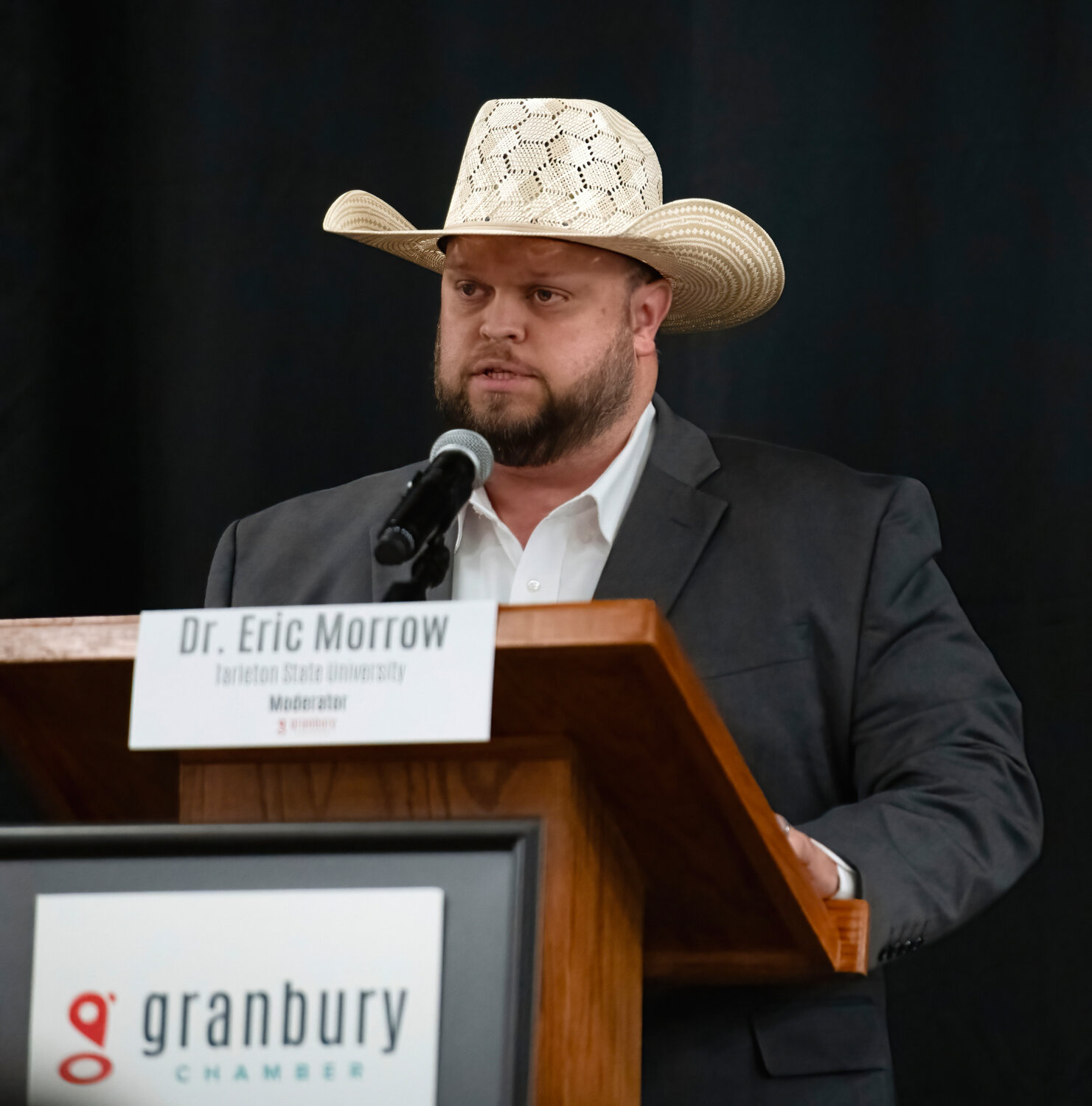 Corrigan said the city does currently have a set breakdown of available breaks and incentives for any business regardless of the industry.
"The way we currently have it set up — because it is not just based on the industry, it is based on the business — is, I believe, the fairest way we can offer these kinds of incentives to businesses," he explained. "Mostly they look at what economic impact you're bringing to the community, the number of jobs, the type of jobs, and the pay for those jobs. We are all big proponents of bringing in any new business that is going to pay a living or better wage for the community members who live here in town."
SHORT-TERM RENTALS
The next question Morrow posed involved the growing number of short-term rentals. He asked the candidates what the city council should or could do to address these in neighborhoods without stepping on property owners' rights.
Overdier said he previously dealt with short-term rentals when he was a city council member in Destin, Florida. He said to control short-term rentals, the property owners need to control four things: garbage, noise, occupancy, and parking.
"If you control those four things, then the rest of the residents in the neighborhood will have a peaceful enjoyment of their property, and that's what it's all about, because in order to have short-term rentals, they have to follow all those ordinances and all those codes that we already have in place in the city of Granbury," he said. "People love to come to those short-term rentals in the downtown area in or near the square. They spend money here and they help our economy, so I'm in favor of short-term rentals."
Beard said he is not for any tax breaks unless they're absolutely necessary." He said with short-term rentals, the same infrastructure and traffic issues would still exist, providing they comply with city ordinance.
"I do not see it as an expansion. Development does not fall on this category," he said.
Wolf said he is a huge proponent of property rights, as well as the money that comes from our city and from businesses.
"It's my understanding the city has addressed this and is in accordance with state law, and I think they've done a good job with that," he said.
Corrigan said both the city and the staff have addressed the concerns of residents and Airbnb owners. He said many residents have complained that there are too many Airbnbs on one street, but as long as the owners are complying within certain parameters and regulations, they are still within their legal right to continue operating their Airbnb.
"If Joe wants to open an Airbnb next to Suzy's Airbnb, and the neighbors next to Suzy don't like it, the neighbors next to Suzy are going to have to get over it because as long as they're following the rules, then Joe can open his Airbnb all day long and we cannot legally — whether we want to or not — deny him that right," he said.
Benson said he is a firm believer in rights and freedoms. He said there are problems occasionally with Airbnbs, but he said he believes most issues can be addressed by the Granbury Police Department.
"Short-term rentals are generally some of the nicest homes in the neighborhood," he said. "They typically increase the surrounding property values. Many residents who often complain about overnight rentals actually live in neighborhoods with HOAs — and as well within the legal purview of an HOA — who set their own rules on overnight rentals. I think the city is already tied up in a system of burdensome regulations, and I believe we should work toward removing some of those restrictions to small businesses, not adding more."
HIGHWAY 377 TRAFFIC CONGESTION
Morrow's next question involved the traffic congestion that will inevitably result during the reconstruction of U.S. 377 and how the city should plan for this issue.
Beard said by adding more lanes on U.S. 377, it won't truly impact the positive way of Granbury. Instead, he said it will be even worse and will cause more accidents and place more calls on emergency services. He said he believes the city should hire more law enforcement officers to combat this problem, and potentially add a toll road that goes through the city and not the highway to greatly reduce the traffic going through town.
"(Toll roads) could also produce additional funds to be able to add it to the city's economy," he said. "Being productive and utilizing our own roads are positive ways to reduce congestion in the city in my opinion."
Wolf said he thinks the city needs to be working with the county to make sure roads like Acton Highway, Old Granbury Road, and Plaza Drive are ready for what's about to happen.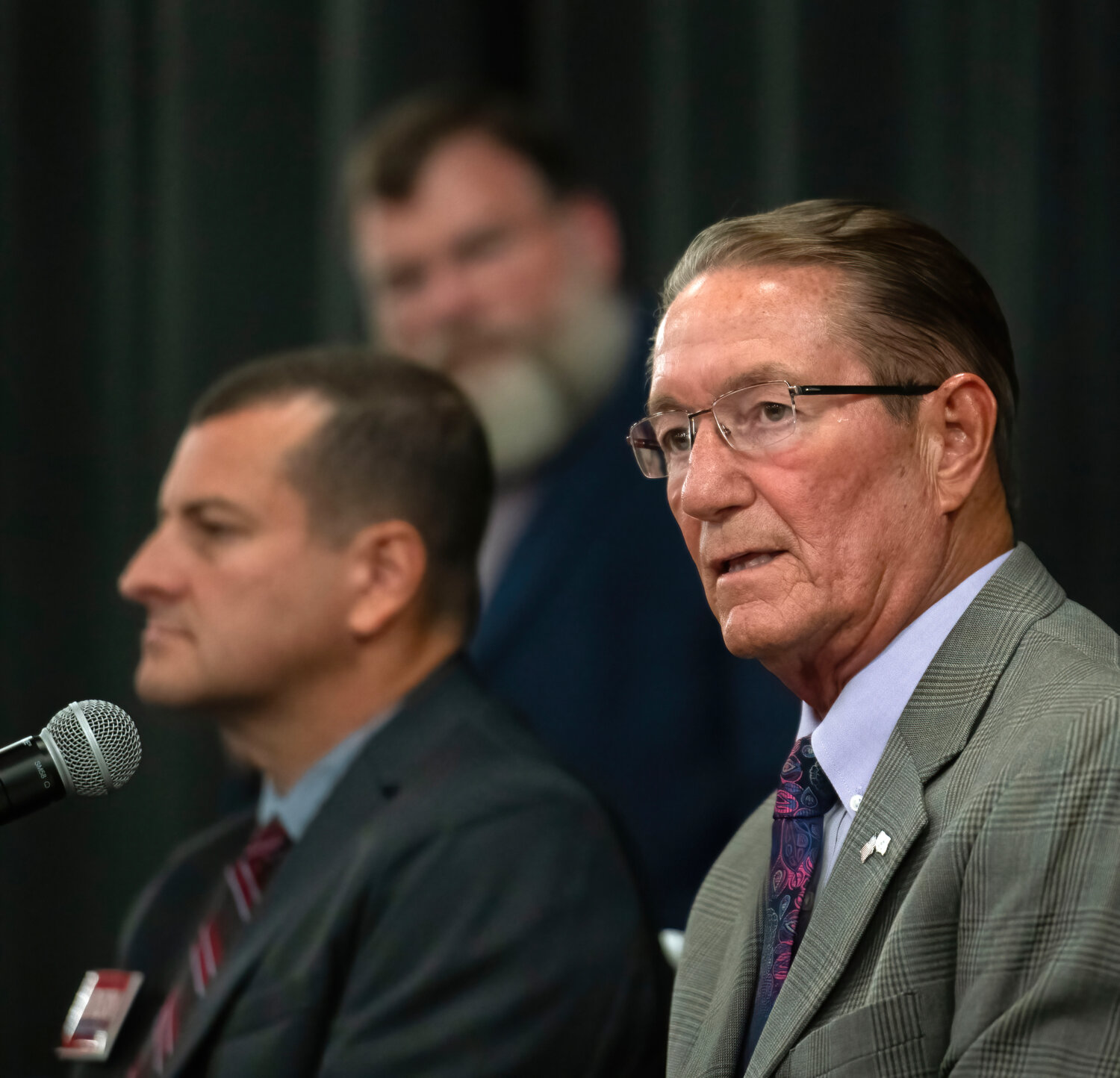 "These are going to get a lot of traffic, a lot of heavy traffic, and I don't think they're ready for it," he said. "We should have been making these ready about a year ago if not more than that. I also think we need to develop a program for providing accurate information about road delays, and I think we need to make sure our businesses are ready. When this happened in Benbrook, a lot of those businesses suffered because of the expansion of that road there. We need to make sure our businesses can continue to be accessible and can continue to thrive during the expansion of 377 and I'd like to tackle that."
Corrigan said TXDOT currently has reconstruction divided into four sections and each section has taken Granbury's limited alternative routes into consideration. He said the city is also currently working with the county and school district about improving Old Granbury Road to ease those traffic issues.
"Our job is and will be to stay on top of TXDOT and to move forward with any and all options to reduce traffic congestion and make sure people can get where they need to go," he said.
Benson — who had a similar answer to Wolf — said the city can learn from the projects in Benbrook and Cresson what not to do. He said the U.S. 377 expansion project is going to be a mess anyway, but we can make improvements to alternative routes to "keep from hurting our small businesses" and "reduce the struggle all residents are going to face."
"I'm the only candidate running for seat 4 who actually has a track record of working with both city and county personnel and county elected officials and I think the relationship between the city and the county right now is a little bit tenuous," he said. "A new candidate needs to be able to step up and do a little better than the current city council to get meaningful things accomplished."
Overdier said when he was on the city council in Florida, Highway 988 was similar to U.S. 377. He said the city transformed the four-lane main thoroughfare through town to a six-lane thoroughfare through town. He said after construction was completed two years later, it was much easier to travel down Highway 98 "just like it's going to be much easier to travel down 377 when this project is done."
"I want to help Granbury do this project on 377. You're gonna love it when it's finished," he said.
IMPROVING CITY/COUNTY/SCHOOL RELATIONSHIP
Morrow asked the candidates what they would do as a member of the city council to improve the relationship between the city, county, and school district.
Wolf said he is willing to work with the county and school district and he would love to get started on some joint projects.
"I think open honest communication is key, and as I said, with the roads, I already have some projects in mind," he said.
Corrigan said personally, he feels he works "very well" with the county and school district. He said there are some individuals who don't feel like the city, school, and county are a cohesive unit, but that the entire group is "making tough decisions for the community."
"I do think there could be generally a better working relationship just as a whole. I feel like at times, we get into the weeds on certain topics that may or may not be necessary," he said. "However, we do currently have — and will continue to have — a quarterly meeting that hosts the city, the county, and the school district. That is our opportunity to come together to hash out issues to bring up new problems and then to ultimately find solutions to those problems."
Benson said he has a proven record of working with both the county and the city. He said he doesn't "play politics" and he believes a person's political leanings should not get in the way of being a local civil servant.
"I will not create any strife or belittle people as has been known to happen before in local politics," he said. "I will professionally work with anyone and represent anyone, and I believe the bigger picture and overall outcome is the most important aspect."
Overdier said periodically, the city does have intergovernmental meetings with the county and Granbury ISD, which gives them an opportunity to discuss issues that can affect all three entities. He said the last meeting discussed Old Granbury Road and how the city and county can work together to help make that a more passable road.
"It has to be a joint city/county effort," he said. "I think the county and the city are willing to work together and we have many projects we can work on together to make it a better community. Remember that even though we live in the city of Granbury, we're all residents of Hood County."
Beard said he wishes to embrace the relationship with the county and the city, along with the Texas Department of Transportation on traffic and road conditions. He said training for emergency services can improve response time to city and nationwide emergencies and educating the public on water-related issues on the lake can limit the number of unnecessary drownings and vehicle recoveries.
"Utilizing the county resources and rights versus when necessary will continue to strengthen the bond between both the city and county, and I would most certainly support these positive efforts," he said.
Morrow then asked the candidates to draw a card that determined their order for answering the next three questions from the audience.
WHAT WOULD YOU DO DIFFERENTLY?
Morrow asked the candidates what they would do differently than what is currently being done now if they were elected or reelected to the Granbury City Council.
Corrigan said he has always prided himself on making decisions geared off what he believes, which include his faith, his political views, and the best interests of the community.
"When I make a decision at the dais, I don't have trouble going home and going to sleep at night, because I've taken the information I have and I've made the best decision I feel like I can make based on those parameters, so I can't honestly say I would do anything differently," he said.
Benson said he believes there is always room for improvement, but the current council has led Granbury in a positive direction. He said he's not a big proponent of tax increases and believes doing more with less is "always a fantastic goal."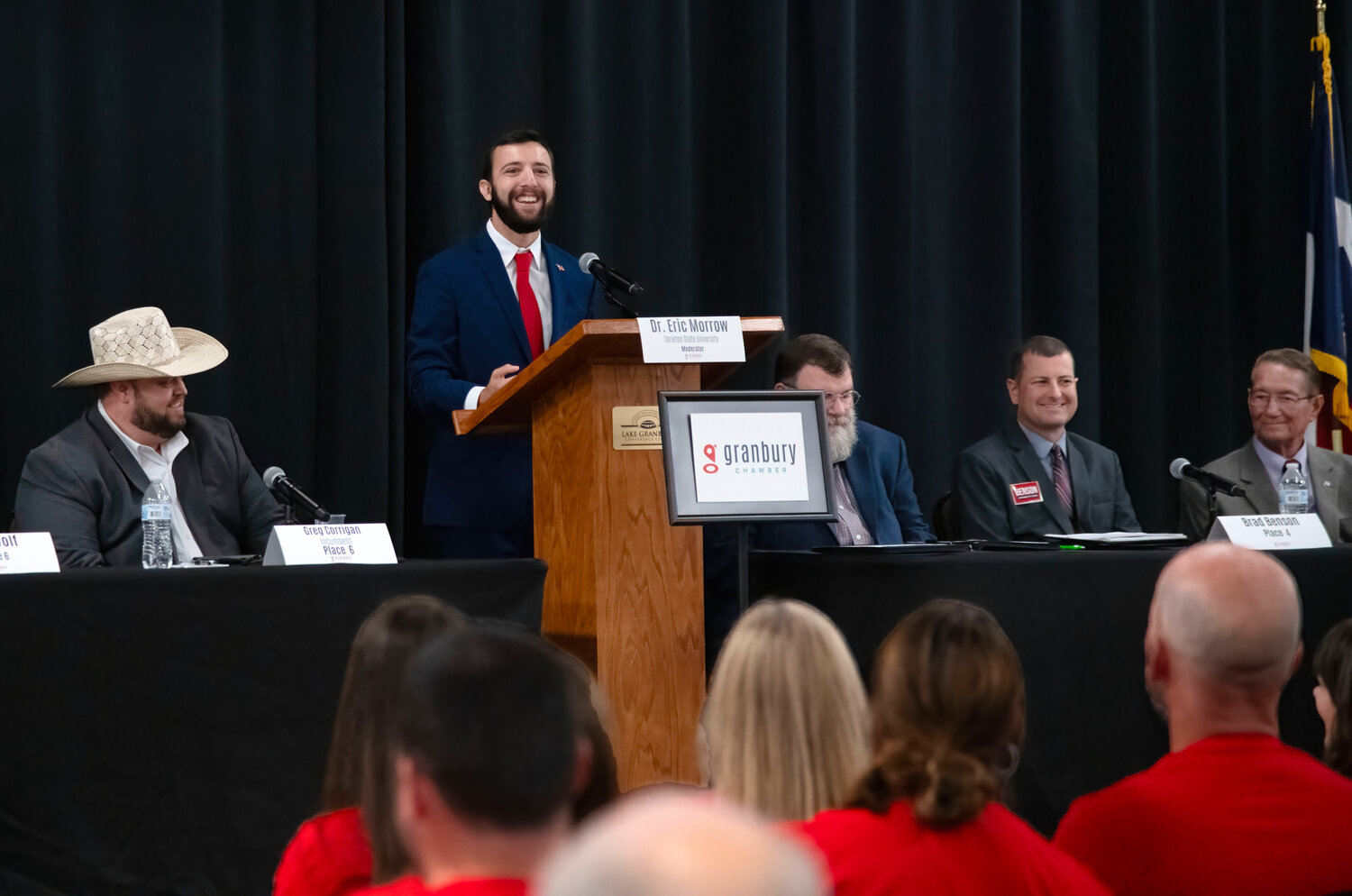 "I think we can make some improvements to the fire service," he said. "We've already talked about ISO ratings and how we can potentially save homeowners and business owners some money with an improved ISO rating. With that said, working with the county is probably the single biggest aspect on our plate right now to be able to fix the problems and move forward."
Overdier said he wouldn't do anything differently on the city council as it is functioning as a "very cohesive unit." He explained that the seat he is running for is currently filled by Trish Burwell, who has decided not to run for another term.
"I want to help the Granbury City Council continue to do the great work they've done over the previous years," he said. "They all work well together, they cooperate, and they graduate, and I want to continue to help them do that."
Beard said if elected, he would look more into the tax issue, to get down to the "nitty gritty," and see what needs to be done.
"We can't say there's nothing we can improve on, because we can always improve on things," he said. "We need to be transparent, open, and I honestly think we don't have enough communication with the public."
Wolf decided to answer the question with another question directed at Corrigan.
"Greg, you've been here six years, and you wouldn't do anything different?" Wolf asked him. "We have a crisis of infrastructure, you wouldn't have, say, made a better plan for? You wouldn't have, say, gone a little easier on our businesses during the COVID crisis? Man, I wouldn't be up here today if I didn't think the city didn't have some problems that needed a little bit better handling and a little bit more attention to detail. You can love what we have here in Granbury, but I think we need a little bit more deft hand at the wheel."
PROPERTY TAX RELIEF
The second audience question Morrow asked the candidates was, "There were several questions related to property taxes, and property tax relief. What do you see as the role of the city council related to this and how can that be addressed?"
Benson said at the end of the day, saving residents' money is the city's goal, whether it's tax dollars or insurance dollars. He said he believes giving back the half-cent from the tax increase is the right move to make, "especially since that budget did in fact balance without having to have that increase."
"There were quite a few increases in the last city budget in terms of payroll all across the whole city," he explained. "There was about a two-and-a-half million dollar increase on payroll budgets, so it bothered me just a little bit when they justified the tax increase saying you guys need two new fire trucks to support Granbury, and that's a $300,000 bill, but they didn't really mention a two-and-a-half million-dollar payroll increase. That wasn't a real publicly-advertised piece of information during the council meeting. We need transparency and accountability. We need to make sure the public is aware of tax increases when they happen and why they happen, and I think we need the opportunity to try to squash some of those tax increases before they happen."
Overdier said he sat through three budget cycles when he was on the Destin City Council in Florida. He said he knows how to look at a budget, look at the needs of the city, weigh the needs of the staff, and put together a budget that meets those needs and finally, generate a tax rate that will support those needs.
"We can use that and measure that and see if the taxes we are going to charge you are equitable and fair and provide for your health, your safety, and your security," he said.
Beard said he is trying to reduce taxes. He explained he's talked to some city employees to get more information on salaries, and believes more competitive wages are needed.
"We need to work together as a team, have fundraisers, and talk to each other," he said. "You just need to ask questions, look at it and say, 'Hey, let's get this changed.' It's real simple. It goes up or it goes down."
Wolf encouraged everyone to go to Granbury.org online and look at the tax charts on the website.
"One of those charts includes your property taxes and fair play to them, they do a good job of making sure they tell you exactly what's happening when it comes to that," he said. "My issue is, again over the past six years your property taxes have doubled. We could have voted 'no' on the last tax and your property taxes still would have gone up because of the raise appraisals on your houses. I'm not sure how we let it get this far without calling some things into question."
Corrigan said on those same reports, individuals will find that the tax rate has actually gone down.
"To be fair, it doesn't go down enough to lower your taxes that you actually pay out of pocket," he said. "We've gone from $0.39 to $0.38, and then recently, back up to $0.385, so it's not that the city council doesn't want your taxes to go down. That's not always an option to provide the services that the city has to provide. I would love to see our tax rate go below .38. We'd love to see it go down in the next year. However, this year, I felt like it was required, and hopefully we can get it back down like we have in the past."
BUDGET EXPERIENCE
Morrow then asked each of the candidates another audience question regarding what experience they bring to the intensive process of form-shaping the city budget.
Overdier explained that when he was on the city council in Florida, he went through three budget processes where he designed the budget, refined the budget, and looked at the budget to make sure it met the needs of the staff and city council.
"Every year we look at a budget, it has to be done to meet the needs of and provide for the health and the safety and the security of the residents," he said. "I keep repeating that, but that's the primary objective of the city council is to take care of the citizens of Granbury, and you can't do that if you can't provide for their health, their safety, and their security."
Beard said he plans to look at the budget and find the best place to make some financial cuts.
"We need to look down into the nitty gritty, look at the reports, and as a collective party, as a team, the entire community needs to be updated and not just controlled," he said. "You need to know what's going on throughout this whole process and put your input in. I'm not a politician. As you can see, I'm stumbling left and right. But the bottom line is I'm speaking from my heart, and I care about the people. We need to trust the individuals that we're putting up there. First of all, do we trust them? Are they loyal? Are they the person you want in office? It's family."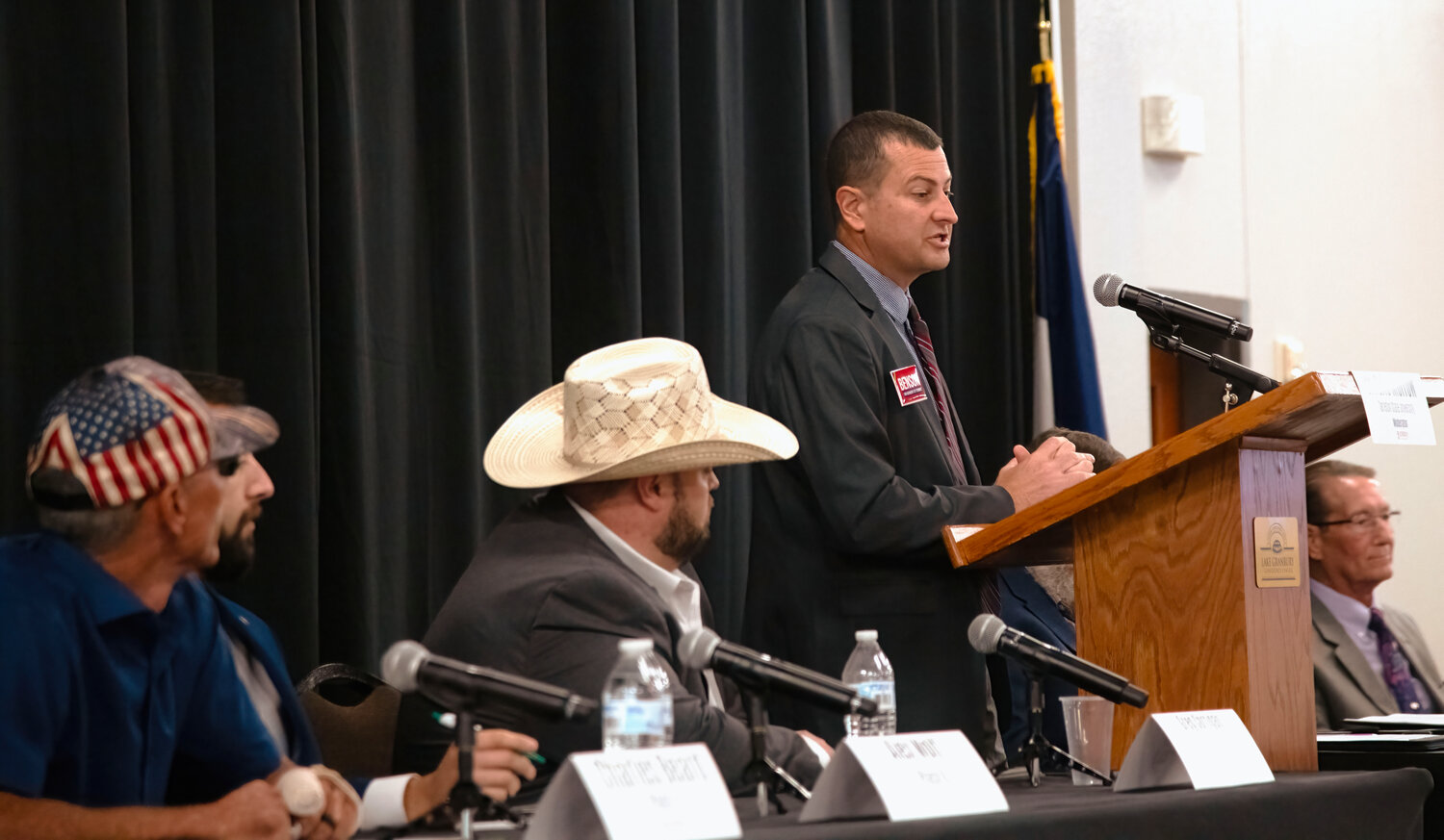 Wolf said his experience with budgeting comes from running his small business, Zev Martial Arts, which serves as the sole support for his family.
"I have enough experience to look at the chart and say while your tax rates are going down, there's a cool little bar that says increased percentage and it increases every single year. It doesn't matter if the tax rate goes down. People are paying more," he explained.
Corrigan said before city council, he ran two small businesses, and since being on city council, he has learned a significant amount about budgeting and the way the government has to budget.
"One thing I can tell you is when the staff presents the budget to our city council, they take everything they know they need, they put it back in the budget, and they come up with a number," he said. "It is our job as city council to review these numbers to make sure they are appropriate and what they are asking for is necessary. And then through the budget process, we have the ability to ask them these very specific questions, especially when there are increases, so the budget we end up with is not only something the city council feels is appropriate, but it's also something that's been justified on several occasions."
Benson said he has financial experience budgeting on the small scale. He said he's helped the fire departments put together a budget every year that's presented to the city. He also said by owning Cinergy Cinemas, he's learned how to budget $2.5 million.
"On the larger scale, I was on the board of directors for a power co-op, and that was about $500 million budget, which is seven times larger than the city of Granbury," he said. "I think I can shed some light on Granbury and hope it gets better."
CLOSING STATEMENTS
Morrow then asked every candidate to offer a one-minute closing statement to the public.
Overdier said it was a decision he made on his own to come to Granbury and he wants to continue to make this a wonderful town.
"I want all of us to be happy when we're here and to make this a better place to live, work and play, and I think I can do that with my background and my experience," he said. "I'll continue to provide your health, your safety, and your security. I know that's not the first time you've heard that, but I do believe that's the most important thing the city council can do for you is to provide for those three items, and I'll continue to do that as long as I'm on the city council."
Benson said he doesn't like the political divisiveness that goes on in Hood County and he will not side with one faction or the other based on preconceptions.
"I think every citizen's voice matters equally, regardless of where you fall on the political spectrum," he said. "I don't play games or belittle people. Likewise, I'm not here to make friends. I don't believe this is a social club. I'm here to analyze challenges and opportunities and do a job serving Granbury. A vote for me is a vote for somebody who is not part of the establishment of an independent thinker. I believe in ethics. I want to continue to serve others. Granbury has been good to me, my family and my business and I wish to pay forward with my time and service."
Corrigan said when he was elected in 2017, he was on a platform that encompassed three main ideas: government is not meant to be a career, to give a fresh voice for the city, and to always be prepared.
"I do my research, I show up prepared, and I make decisions based on what is best for the community as a whole," he said. "I appreciate your support, I ask for your vote, and I look forward to my continued service."
Wolf said after door knocking, he recently got a call from a guy who asked him, "Why is your opponent telling me about everything he's going to do when he's been running for six years?" Wolf said he replied to the man, "That's why I'm running."
"Three years from now, you're not going to have to ask what I've done, you'll know what I've done," he said. "It will be my honor to serve this community, and I'm asking you for your vote."
Beard said he believes in full transparency when it comes to information. He said he was recommended for two Purple Hearts and an Army Commendation of Valor.
"This is full transparency. However, an example of lack of transparent loyalty would be to not tell the public that you left 22 months early from a city council position," he said. "Now this individual wants to start the process all over again. Will they be loyal or transparent to the voters? How about that you play no integral part of a family business except being a manager openly telling people on the city council page of your personal lifestyle choices, then removing it after it is known that his lifestyle is against the republican platform, then reposted on the day at the Hood County Republican meeting for which your mom attended for you? Will this person be loyal to the voters and have integrity to stand strong? I will stand with integrity and loyalty to voters in Granbury. My track record shows that."
Early voting begins on Monday, Oct. 23 and ends on Friday, Nov. 3. Early voting dates and times are listed below and will take place at the Hood County Annex located at 1410 W. Pearl St.
Oct. 23-27 from 8 a.m.-5 p.m.
Oct. 28 from 7 a.m.-7 p.m.
Oct. 29 from 9 a.m.-3 p.m.
Oct. 30-Nov. 3 from 7 a.m.-7 p.m.
Friday, Oct. 27 is the last day to apply for ballot by mall (received, not postmarked).
Tuesday, Nov. 7 is Election Day.
For more information, visit granbury.org/803/Elections online.
ashley@hcnews.com | 817-573-1243