With all due respect to Bruce Springsteen, Jaxon Glenn was born to run.
And since he started doing so, he's been the boss at the majority of meets in which he's entered.
Glenn, a freshman runner for Granbury High School, comes from a family of runners from his parents to his siblings. Once he entered the competitive realm of the sport, he's been winning with more frequency than Taylor Swift turns out boyfriend songs.
"My older brother ran in high school, and I went to his races and thought it was awesome," Jaxon recalled. "I really wanted to follow in his footsteps, so I started running in seventh grade and have been running since then in cross country and track.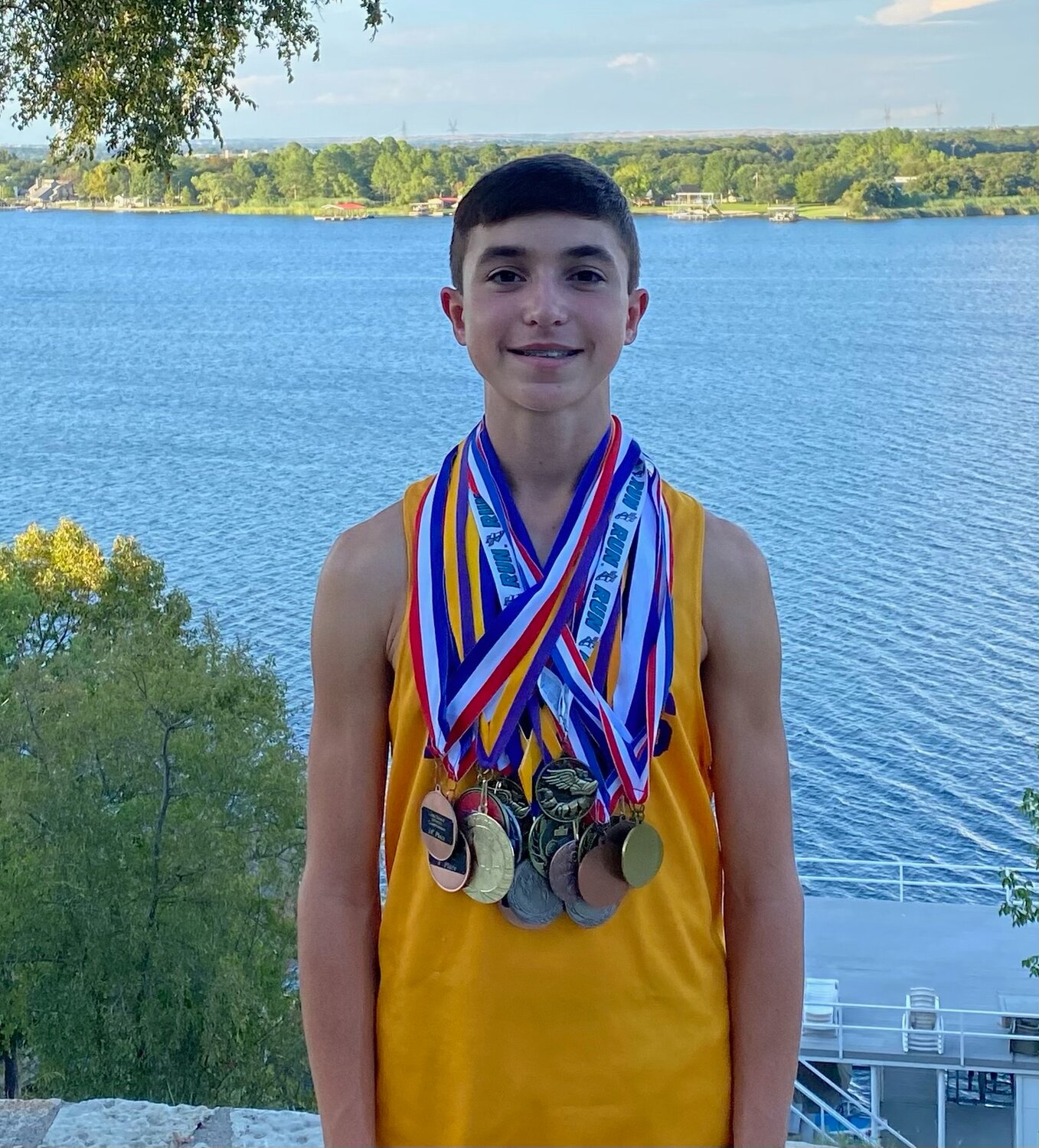 "Once I started, I realized I loved it, and I was good at it because I worked hard. My goal is to run at the collegiate level one day."
In the meantime, most of his competition probably wish he was already in college.
He holds the Acton Middle School record for the fastest 2-mile run at 11 minutes, 54 seconds. In the fall of eighth grade, he played football, which he said kept him from competing at his best in cross country.
But he trained hard, and in the spring he was unstoppable. He went undefeated the entire eighth-grade track season, winning every race he entered in the 800, 1600 and 2400 meters.
That springboarded him to the sensational freshman season he is currently having as a Pirate. As of press time, Jaxon had competed in six meets with five top-five finishes this season. He won the Birdville Flyin' Hawk Invitational, along with two silver medals, one bronze medal and a fifth-place finish. His lowest finish of the season was eighth at the Paschal meet out of 211 runners.
"Jaxon has a very high ceiling. He's very driven, has an extreme work ethic, and does all the little things right - diet, rest, stretching, taking care of his body," Granbury coach Jody Brown said. "All those factors add up to and contribute to his success.
"Most importantly, he's strong academically. Glad we have him for four years."
INSPIRATION
Jaxon said his inspiration is Roger Bannister, the first human to run a sub-four-minute mile. He did so in 1954.
"My dad told me about him as I started getting serious about running. I've done a lot of research on him. He inspires me to want to break the four-minute mile as well one day," Jaxon said. "Right now, I am running about a 4:42 mile, so I want to continue to get stronger and faster for track season."
He also gets inspiration from his family. His older brother, Jayce, advanced to regionals in cross country as a Pirate, and his other older brother, Jayton, got there in track.
His mother, Karisa, advanced to regionals and state when she was a runner in high school.
"A new coach moved in during her junior year and started a cross country program. That year, she and her team went to state to compete. I thought that was pretty cool," Jaxon said.
BEST ABOUT SPORT
Jaxon said the thing he likes most about running cross country is no matter a person's size or grade they are in, they can compete if they work hard enough and strive to be the best - two things he does consistently.
"I am the youngest on my team, but my entire team is encouraging, and they don't treat me differently even though I'm a freshman and most of them are juniors and seniors," he said. "I also love that it is a team sport as well as an individual sport. Your team can do well, and you can do well as an individual also."
Jaxon is the second freshman in as many years to be a standout runner for the Pirates. His teammate, Bryan Hailey, who is battling back from an injury, reached state and finished 20th in Class 5A last season as a freshman.
Of course, Jaxon is hoping to duplicate that accomplishment and be running in Round Rock at state come the first weekend of November.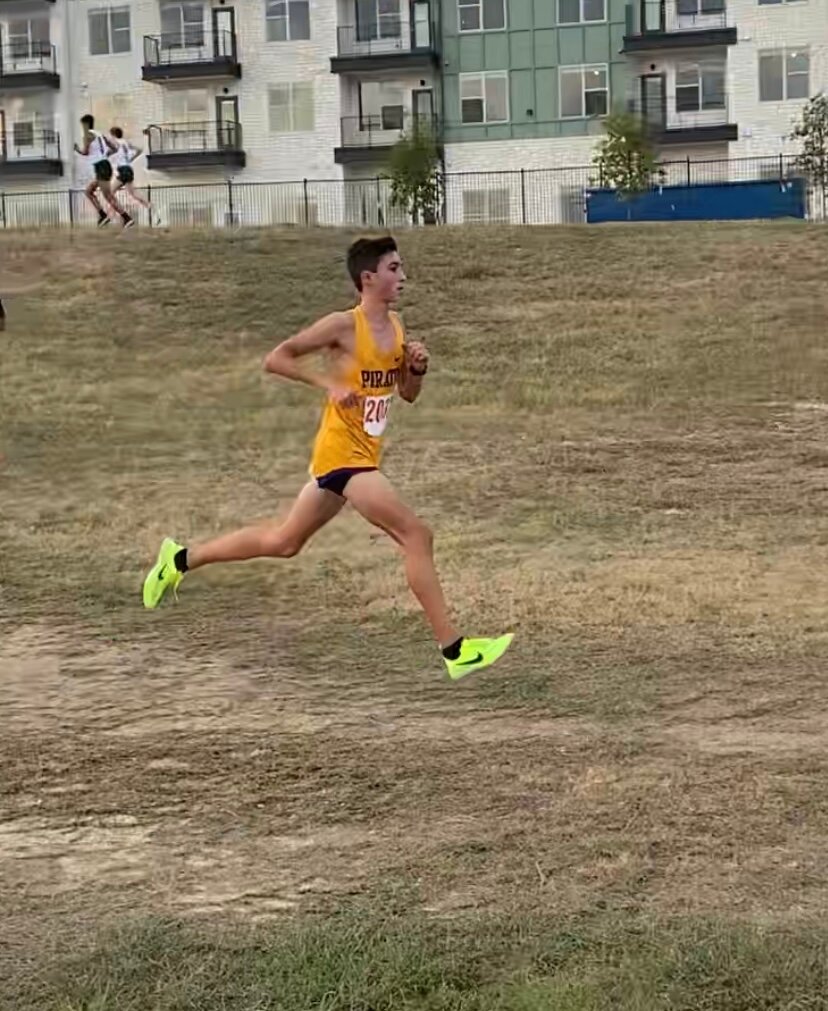 COMPETITIVE NATURE
Ever the competitor, Jaxon isn't thinking of the wind blowing through his hair or the freedom of being alone in his own space when he's running. He likes to win, and to do so, he likes to be aware of his surroundings at all times.
"When I'm running, I am always thinking about who is in front of me or behind me and how I'm going to stay in the lead or pass them on the course to advance in the race," Jaxon said. "My mind is always focused on staying in the lead and finishing strong."
It's a strategy that has paid off.
Jaxon said he's given some thought to competing outside of school, but other than training himself and running some 5K events during the summer months, he hasn't done so - yet.
"Starting this next year, I will begin attending college camps to help me achieve success at the next level," he said.
He's even competitive with himself when he trains. He runs at least twice a day - and he rarely takes a day off.
"Some days are long runs, some are for speed, and some are for strength training. They're all very important in order to get better each time," he said. "Although I'm only a freshman, I know if I continue to put in the work, I can achieve success."